---
FREQUENTLY ASKED QUESTIONS
Q: How Do I Get Free Razors or Samples With My Order?
Your free razors or samples can be chosen in your cart just before checkout.
You can add one (1) free item for every item in your cart. You will see an area above the item(s) in your cart where you can choose your samples (highlighted in green below). Click the "Add to Cart" button to add that free item to your cart.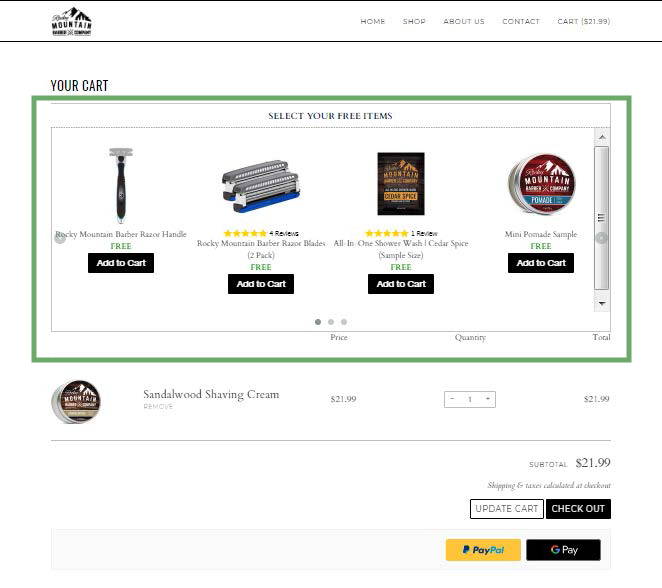 Your free item will then be added to your cart. You will be able to repeat this step until you have 1 free item for every product you are purchasing. Once you have the maximum number of free items added to your cart, the box will disappear and you will see all the items that will be shipped to you.
After you have completed adding your free item(s) to your cart, click Check Out to review and finalize your order.
We ship to all provinces and territories in Canada.
Q: What is your return policy?
We are committed to your satisfaction and offer easy, hassle-free returns. Visit our Returns Policy page for more information.
Q: I NEED TO CANCEL OR CHANGE MY ORDER
If you'd like to request a cancellation or change an order that has recently been placed, click "Cancel" or "Edit" in your order confirmation email, the order status page, or the Order History section of your store account page. We will attempt to cancel or change your order if it has not yet already been fulfilled. Orders that are already in the process of being fulfilled cannot be cancelled or changed.
Q: Can I Use Multiple Coupon Codes?
Only one coupon code can be applied per order. Please note that discount codes cannot be applied to Shave Club orders.
Q: I'm Not Satisfied With My Purchase. What Should I Do?
Q: I Want to Sell Rocky Mountain Barber Products in My Retail or Online Store.
If you are interested in wholesaling our products at your retail location, please visit our wholesale website to apply.
Q: My Question is Not Answered Here.
For all other inquires please contact us. Be sure to include your order number in your contact if it is regarding an order you recently placed.
Q: How do I join and is there a cost?
Our program is free to join! Simply create an account and you will be enrolled into our rewards program. Make sure that you are signed into your account whenever you make a purchase to ensure you receive your points.
You earn points on every dollar spent. There are three tiers, and as you advance, each tier allows you to earn points faster than the previous. You must be signed into your account to earn points on your purchases.
Q: How can I check my points balance?
You can see your point balance by logging into your account and clicking the "My Loyalty Points" button in your account dashboard. The Loyalty Rewards Program dashboard will then appear on your screen.
Q: How do I redeem my points?
You can redeem points by logging into your account and clicking the "My Loyalty Points" button in your account dashboard. After the Loyalty Rewards Program dashboard appears, click "Redeem" next to the reward you would like to redeem.
Q: My Question is not answered here.